VANCOUVER, British Columbia, Oct. 03, 2023 (GLOBE NEWSWIRE) -- Foremost Lithium Resource & Technology Ltd. (NASDAQ: FMST) (CSE: FAT) ("Foremost Lithium", "Foremost" or the "Company"), a North American hard-rock lithium exploration company, today announced that EarthEx Geophysical Solutions Inc. will commence LiDAR surveying at the Company's Peg North property the week of October 9, 2023. The upcoming LiDAR survey on the Peg North claim block will complete the collection of LiDAR and high-resolution magnetics over the entirety of Foremost's "Lithium Lane" properties in the Snow Lake area, including its Jean Lake, Grass River, Zoro and Peg North properties.

Foremost has flown a total of 7,472.7-line km of drone-borne magnetics, using the exMAG system over its entire 43,000+ acres/17,500 ha land package. The drone magnetometer surveys were flown with a flightline azimuth of 070º and flight-line spacing of 25m. Tie lines were established at 250m spacing.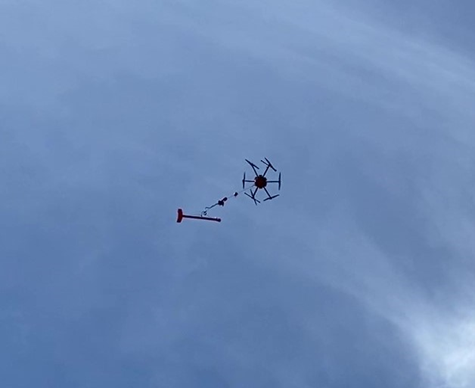 Figure 1. Drone Carrying a Magnetometer
"Completing the LiDAR surveying over the entirety of our Lithium Lane properties is an important development for our exploration program," said Jason Barnard, President and Chief Executive Officer of Foremost Lithium. "Utilizing aerial drone surveys to better understand the structural details both above and below surface enables us to prioritize the best targets for future drilling. This approach is effective on our large, 43,000-acre district-scale Lithium Lane properties. We look forward to sharing the results from the final LiDAR survey on Peg North once it is completed."
Unmanned Arial Vehicles ("UAV") and The exMAG System
UAV magnetic data lends itself very well to finding new prospective drill targets. The UAV system's resolution has provided excellent litho-structural detail over all Foremost's Lithium Lane properties and has generated detailed 3D models of the magnetic sources on the properties. Magnetic surveys can provide valuable exploration information such as depth to source, dip of the body as well as the overall shape and morphology of the lithological unit. The exMAG system is a geophysical system which generates industry-leading magnetic maps and 3D models by employing advanced drone navigation technology to fly lower and more precise missions than other drone-borne systems, and advanced processing methodology to generate high quality deliverables. Its purpose is to provide Foremost with the best possible suite of tools for characterizing the magnetic characteristics subsurface in their study-area, with a focus on detail and precision.
The resolution of the mag survey and the exMAG system allows targeting of bedrock structures which may host lithium pegmatite deposits, which when coupled with 3D products from inversion of magnetic survey data provides an excellent source of information for Foremost Lithium to define drill-targets on its property based on its magnetic signatures including both magnetic and non-magnetic targets. The combination of previously flown magnetics, and LiDAR collected by EarthEx have revealed numerous important features across the various properties, including structures in the exMAG drone-borne magnetic data which line up with known pegmatite occurrences, other structures in the vicinity of known pegmatites which suggest a pegmatite dyke swarm may be present; topographic expressions which may indicate bodies resistive to weathering, such as pegmatites, are present.
Daniel Card, President, and Chief Geophysicist of EarthEx, commented: "The upcoming of the Peg North LiDAR will complete blanket coverage of multiple high-resolution datasets which will serve as an excellent foundation for exploring the impressive Lithium Lane land package. Exploration meetings examining the previously acquired magnetic and LiDAR datasets over the rest of the property have shown excellent correlation between the data and known pegmatites on the property. This allows Foremost to use these areas as a benchmark for data signatures, which will serve as a powerful tool for generating high quality drilling targets."
Peg North Property
EarthEx flew a drone-assisted magnetic survey over the entire property in Q3 of 2022 and completed a UAV assisted high-resolution airborne magnetic survey. The survey was conducted between June 15th, 2022, and October 6th, 2022, comprised 2990.5-line km, and identified specific areas of interest. The exMAG detailed magnetic data collected by EarthEx at Peg North revealed a 3km long discontinuity in the northeast of the project. This major structure may provide pathways suitable for mineralization. An MMI (Mobile Metal Ion) survey by Dahrouge Geological Consulting has been completed in the area this past summer with assays pending. The upcoming LiDAR survey will commence in this area, before proceeding to cover the remainder of the Peg North property.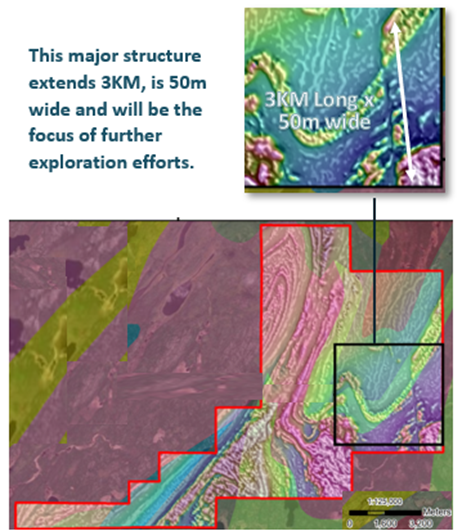 Figure 2. Peg North Property's Magnetic Fabric and Focus of its 3KM Structure
A review of the magnetic survey data on each of the four Lithium Lane properties has defined numerous discontinuities in the magnetic fabric as documented by the UAV-assisted survey. These discontinuities are interpreted to reflect geological structures with the potential to provide pathways for lithium-bearing pegmatite and other mineralization. The orientations of the discontinuities are consistent with those of the B1 pegmatite on the Company's Jean Lake property and the Thompson Brothers deposit hosting 11.1 million metric tonnes of indicated and inferred resources at 1% Li20 (lithium oxide).1
Similarly, high resolution LiDAR models of ground elevation or relief on the Lithium Lane properties have also defined many areas with comparable orientations as known spodumene-bearing pegmatite. Both magnetic discontinuities and LiDAR images with appropriate orientations, coupled with mapping and geochemical surveys compliments the magnetic survey to provide a base to follow-up exploration and drill targeting.
About Foremost Lithium
Foremost Lithium (NASDAQ: FMST) (CSE: FAT) is a hard-rock lithium exploration company focused on empowering the North American clean energy economy. Foremost's strategically located lithium properties extend over 43,000 acres in Snow Lake, Manitoba, and hosts a property in a known active lithium camp situated on over 11,400 acres in Quebec called Lac Simard South.
Foremost's four flagship Lithium Lane Projects as well as its Lac Simard South project are located at the tip of the NAFTA superhighway to capitalize on the world's growing EV appetite, strongly positioning the Company to become a premier supplier of North America's lithium feedstock. As the world transitions towards decarbonization, the Company's objective is the extraction of lithium oxide (Li₂O), and to subsequently play a role in the production of high-quality lithium hydroxide (LiOH), to help power lithium-based batteries, critical in developing a clean-energy economy. Foremost Lithium also has the Winston Gold/Silver Property in New Mexico, USA. Learn More at www.foremostlithium.com.
Follow us or contact us on social media:
Twitter: @foremostlithium
Linkedin: https://www.linkedin.com/company/foremost-lithium-resource-technology/
Facebook: https://www.facebook.com/ForemostLithium
Company
Jason Barnard, President and CEO
+1 (604) 330-8067
This email address is being protected from spambots. You need JavaScript enabled to view it.
Investor Relations
Michael Kim or Brooks Hamilton
MZ North America
+1 (737) 289-0835
This email address is being protected from spambots. You need JavaScript enabled to view it.
The CSE has neither approved nor disapproved the contents of this news release. The CSE does not accept responsibility for the adequacy or accuracy of this release.
Forward-Looking Statements
This news release contains "forward-looking statements" and "forward-looking information" (as defined under applicable securities laws), based on management's best estimates, assumptions, and current expectations. Such statements include but are not limited to, statements with respect to the plans for future exploration and development of the Company's properties and the acquisition of additional exploration projects. Generally, these forward-looking statements can be identified by the use of forward-looking terminology such as "expects", "expected", "budgeted", "forecasts", "anticipates" "plans", "anticipates", "believes", "intends", "estimates", "projects", "aims", "potential", "goal", "objective", "prospective", and similar expressions, or that events or conditions "will", "would", "may", "can", "could" or "should" occur. These statements should not be read as guarantees of future performance or results. Such statements involve known and unknown risks, uncertainties and other factors that may cause actual results, performance or achievements to be materially different from those expressed or implied by such statements, including but not limited to: risks related to the receipt of all necessary regulatory and third party approvals for the proposed operations of the Company's business and exploration activities, risks related to the Company's exploration properties; risks related to international operations; risks related to general economic conditions, actual results of current exploration activities, unanticipated reclamation expenses; changes in project parameters as plans continue to be refined; fluctuations in prices of commodities including lithium and gold; fluctuations in foreign currency exchange rates, increases in market prices of mining consumables, possible variations in reserves; failure of plant, equipment or processes to operate as anticipated; accidents, labour disputes, title disputes, claims and limitations on insurance coverage and other risks of the mining industry; delays in the completion of exploration, development or construction activities, changes in national and local government regulation of mining operations, tax rules and regulations, and political and economic developments in jurisdictions in which the Company operates. . Although the Company has attempted to identify important factors that could cause actual results to differ materially from those contained in forward-looking statements, there may be other factors that cause results not to be as anticipated, estimated or intended. There can be no assurance that such statements will prove to be accurate, as actual results and future events could differ materially from those anticipated in such statements. The forward-looking statements and forward-looking information are made as of the date hereof and are qualified in their entirety by this cautionary statement. The Company disclaims any obligation to revise or update any such factors or to publicly announce the result of any revisions to any forward-looking statements or forward-looking information contained herein to reflect future results, events, or developments, except as require by law. Accordingly, readers should not place undue reliance on forward-looking statements and information. Please refer to the Company's most recent filings under its profile at www.sedar.com for further information respecting the risks affecting the Company and its business.
1 https://www.abnnewswire.net/companies/en/37973/Snow-Lake-Resources-Ltd.html
Photos accompanying this announcement are available at: 
https://www.globenewswire.com/NewsRoom/AttachmentNg/5a2eb999-8b50-4852-abb7-78f265f4c056
https://www.globenewswire.com/NewsRoom/AttachmentNg/19fa87fc-d431-4a3a-be5a-2d0d44c3a55d