Highlights Include:

Initial phase of rock sampling return assay of up to 2.13% Li2O at the Zoro Lithium Project and values of up to 1.86% Li2O at Jean Lake Lithium Project
Jean Lake Property displayed promising lithium mineralization with significant upside potential.
Zoro Project presents further potential to delineate future resources on spodumene-bearing dykes.

VANCOUVER, British Columbia, Oct. 12, 2023 (GLOBE NEWSWIRE) -- Foremost Lithium Resource & Technology Ltd. (NASDAQ: FMST) (CSE: FAT) ("Foremost Lithium", "Foremost" or the "Company"), a North American hard-rock lithium exploration company, today announced positive results returned from the rock sampling program on its Peg North, Grass River Claims, Jean Lake, and Zoro properties, including high-grade lithium values and spodumene mineralization at both the Zoro and Jean Lake Property.
Dahrouge Geological Consulting Ltd. ("DGC") conducted a large-scale surface exploration program on Foremost's four Lithium Lane properties for Lithium Cesium Tantalum ("LCT") pegmatites this past summer, focusing interest towards pre-defined, high-priority targets on the Zoro and Jean Lake Property.
"The compilation of work has yielded highly promising results from sampling to date, and the team at Dahrouge continues to demonstrate their ability to execute a successful exploration program," said Jason Barnard, President and Chief Executive Officer of Foremost Lithium. "Our 2023 exploration campaign is focusing on our high-quality assets and is supported by extensive geological data. The potential of this fertile area gives us great confidence as we define drill targets in preparation in this upcoming drill program. We look forward to proving results for our company and our shareholders."
Samples were shipped to SGS Laboratories (Burnaby) for analysis which used a total dissolution of the sample by sodium peroxide fusion and ICP-MS finish. This analytical approach is the standard analytical technique used by the Company on its Zoro and Jean Lake lithium projects. QAQC samples were inserted into the sample sequence at a rate of 5%, utilizing certified reference material and quartz blanks.
Zoro Property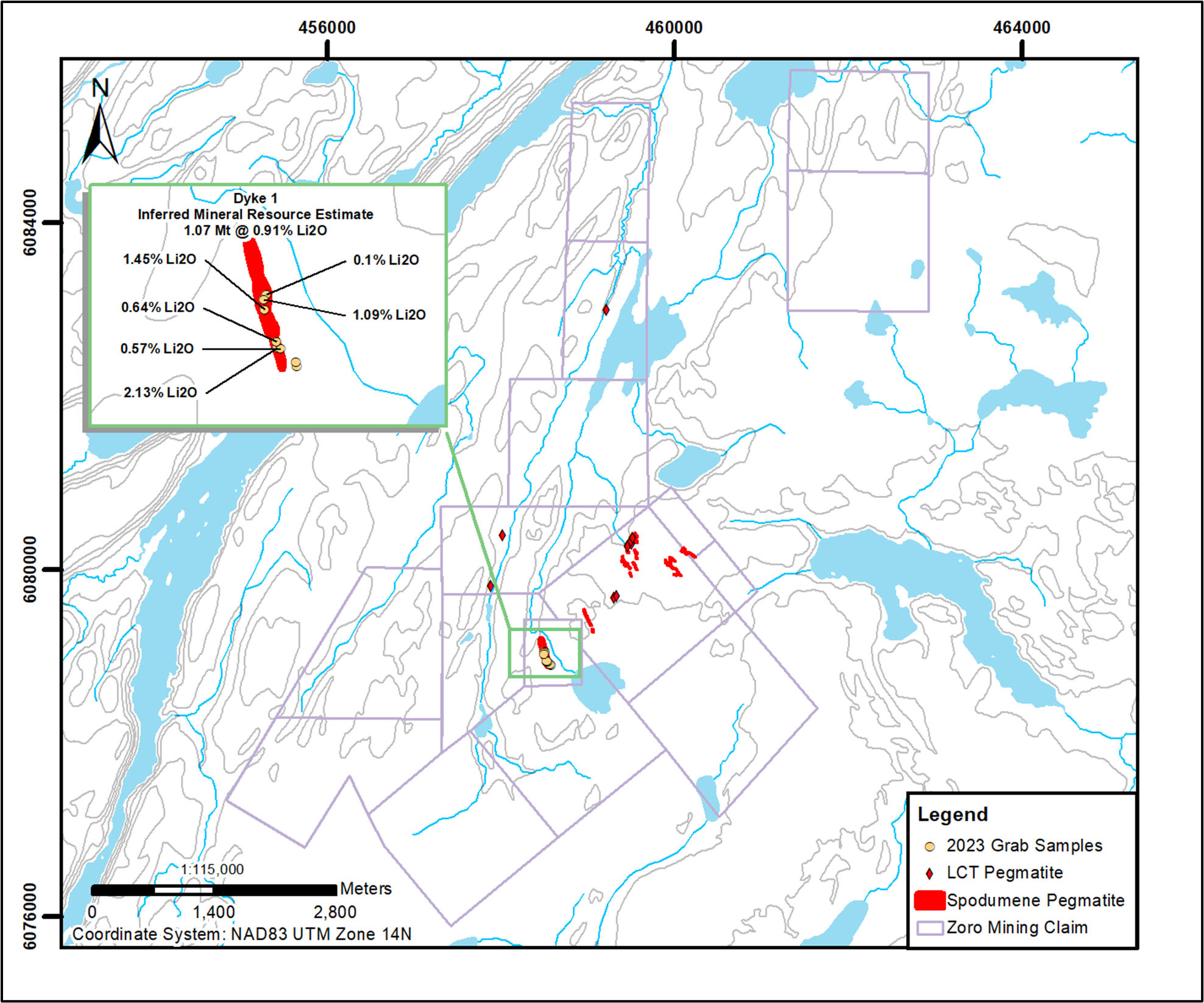 Figure 1-0 – Grab samples taken on the Zoro Property during the 2023 field program
At the Zoro Property, the mapped spodumene occurrence at Dyke 1, was revisited for sampling and detailed structural mapping to assist with targeting for the upcoming winter drill season. This was revisited for sampling and hosts an inferred resources of 1,074,567 tons at a grade of 0.91% Li2O, with a cut-off of 0.3% in accordance with the Company's SK-1300 Technical Report Summary (2023) and NI-43101 Technical Report (2018). DCG verified the presence of spodumene-mineralized pegmatite on surface at Dyke 1. Eight (8) pegmatite samples, five (5) containing spodumene, were collected for assay. Assay highlights can be found in Table 1.
| | | | | |
| --- | --- | --- | --- | --- |
| Sample ID | Li (ppm) | Li2O (%) | Cs2O (ppm) | Ta2O5(ppm) |
| 153291 | 9883 | 2.13 | 161 | 44 |
| 153292 | 2627 | 0.57 | 178 | 44 |
| 153293 | 2979 | 0.64 | 147 | 60 |
| 153294 | 479 | 0.10 | 418 | 106 |
| 153295 | 5062 | 1.09 | 364 | 37 |
| 153296 | 6734 | 1.45 | 252 | 94 |
Table 1 – Assay highlights from grab samples taken on the Zoro property during the 2023 field program.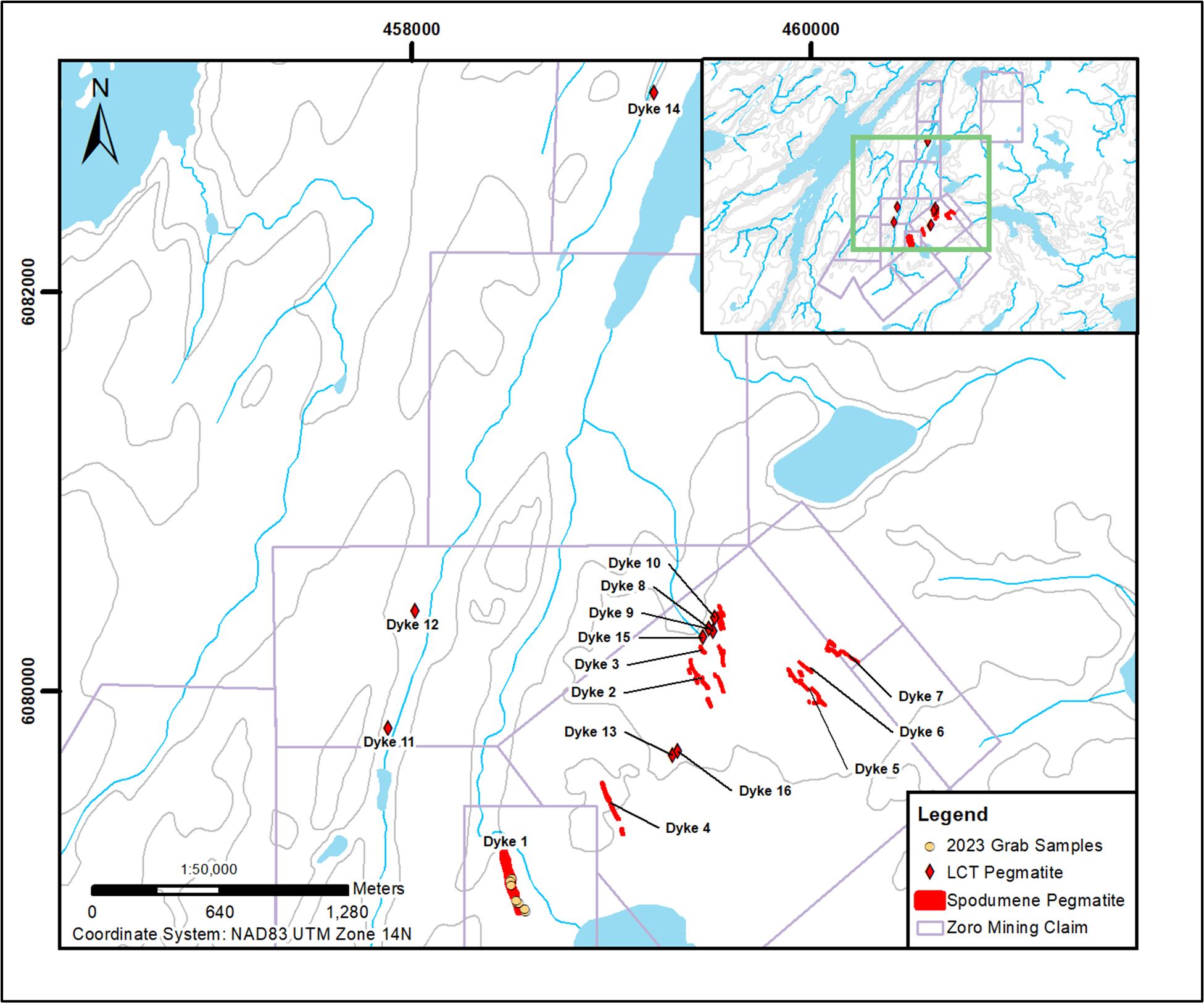 Figure 2-0 – Overview of the Zoro Property showing spodumene-bearing pegmatites and untested LCT pegmatites which are targets for future exploration.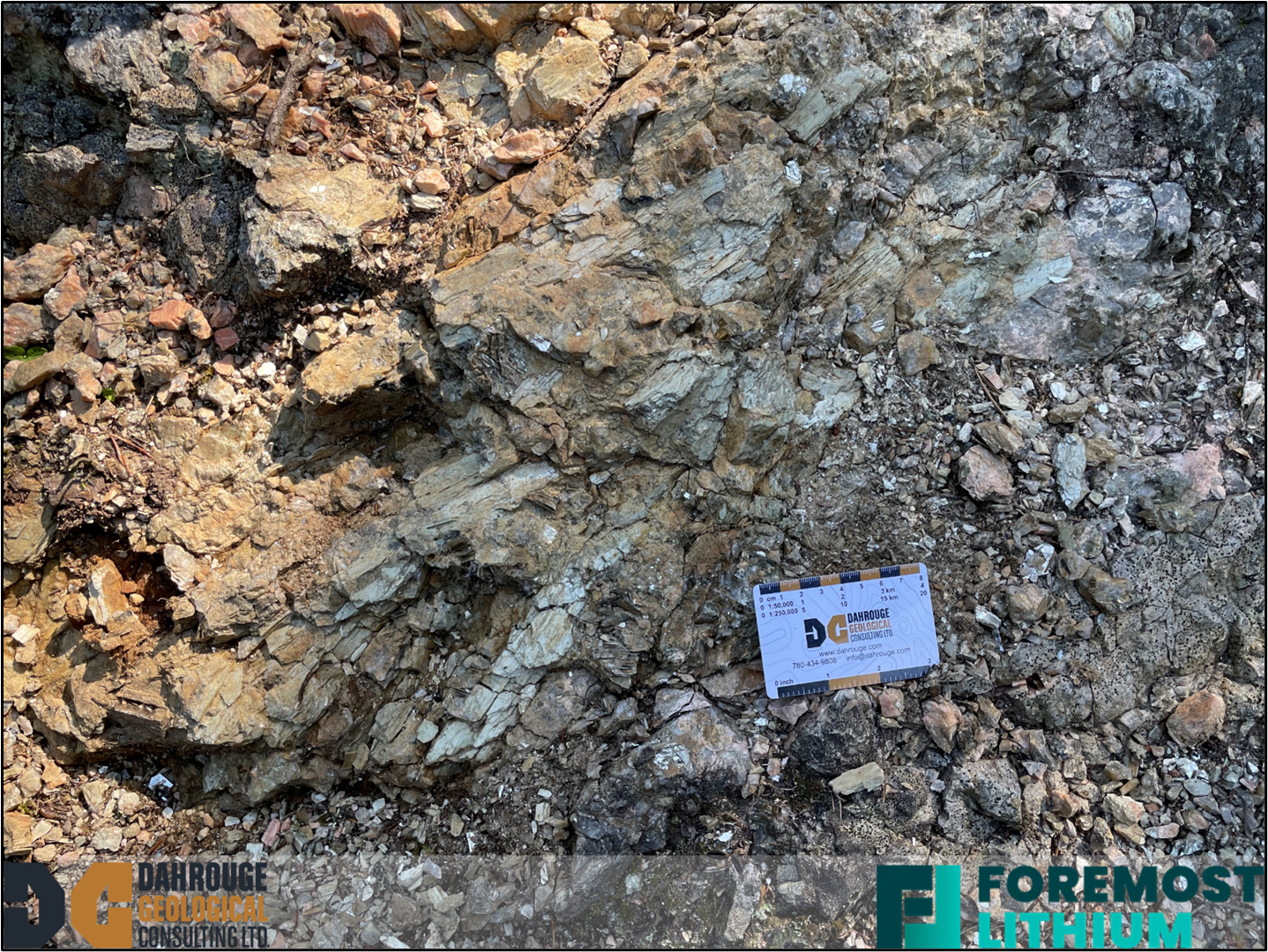 Photo 1 – Large spodumene crystals at Dyke 1 on the Zoro Property.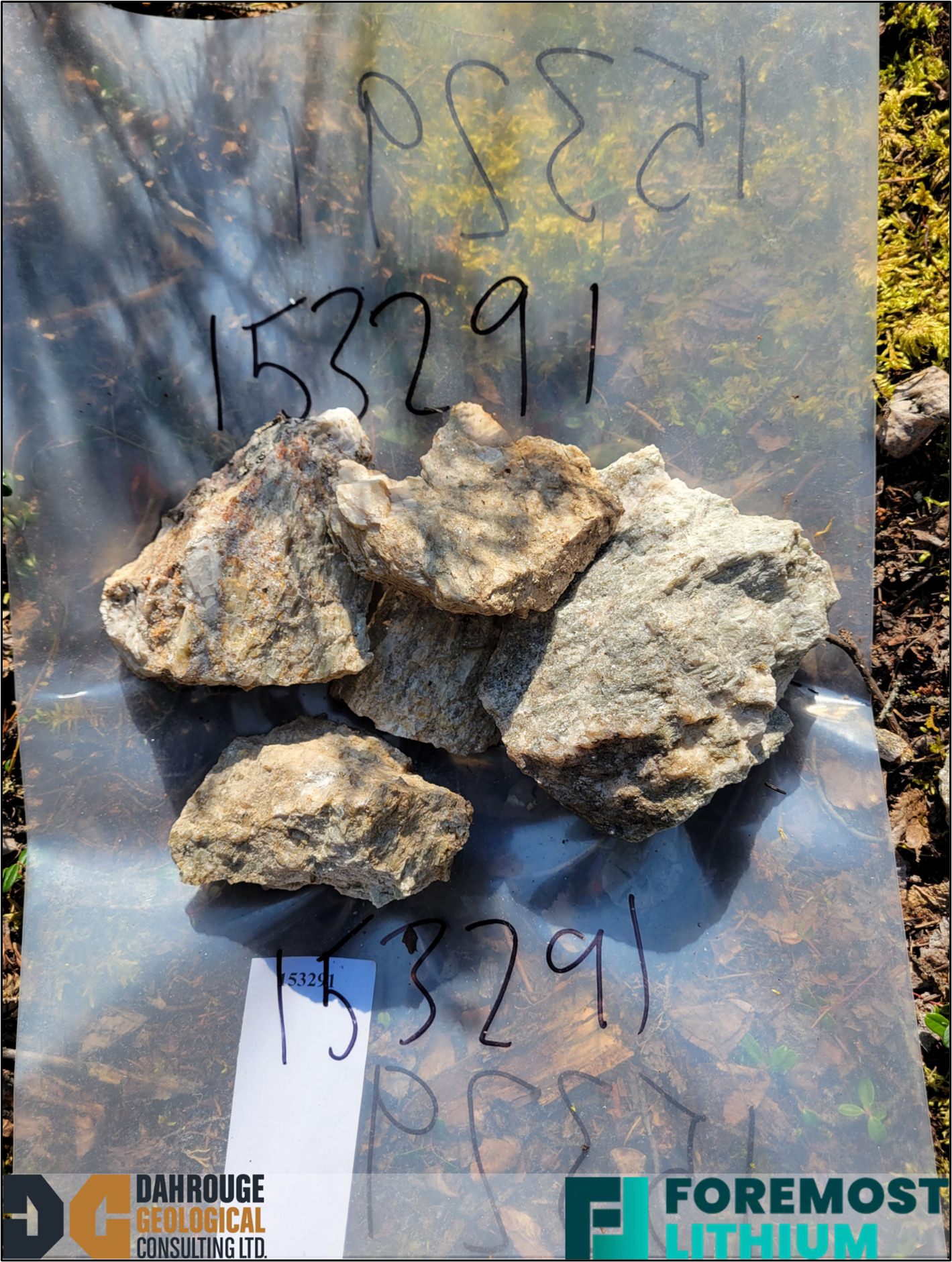 Photo 2 – A grab sample from Dyke 1 on the Zoro Property that assayed at 2.13% Li2O
Jean Lake Property
Spodumene-pegmatite occurrences (B1, B2, and B3) that are collectively known as the "Beryl Pegmatites" were sampled and mapped in further detail to assist with drill targeting for the upcoming drill season. Additional overburden was stripped from the B1 and B2 occurrence, revealing more spodumene mineralization. Four (4) chip samples were collected during the 2023 field program, three (3) of which were from spodumene bearing pegmatite. Samples taken from the B1 pegmatite hosted coarse-grained, pale green spodumene that ranged from 5cm to 0.70m (Photo 1). Samples taken from the B2 pegmatite hosted abundant apple-green to yellow-green spodumene that ranged from 5cm to 15cm (Photo 3). Assay highlights are presented in Table 2 below.
| | | | | |
| --- | --- | --- | --- | --- |
| Sample ID | Li (ppm) | Li2O (%) | Cs2O (ppm) | Ta2O5(ppm) |
| 153026 | 8434 | 1.82 | 24 | 1 |
| 153027 | 64 | 0.01 | 1 | 0 |
| 153029 | 8635 | 1.86 | 27 | 10 |
Table 2 – Assay highlights from 2023 chip samples field program
Figure 3-0 – 2023 chip samples on the Jean Lake Property.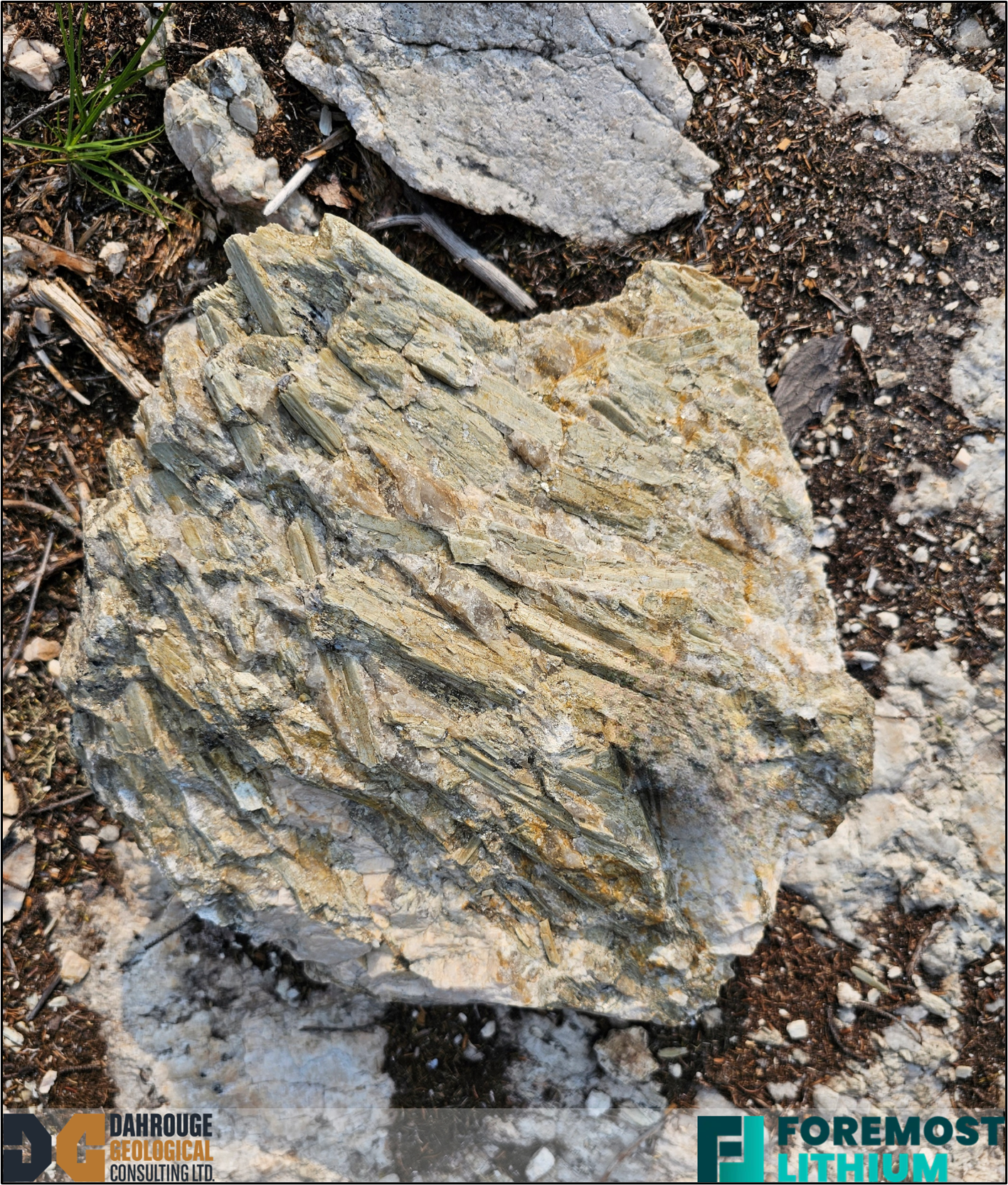 Photo 3 – Spodumene-rich boulder excavated during historical blasting at the B2 pegmatite.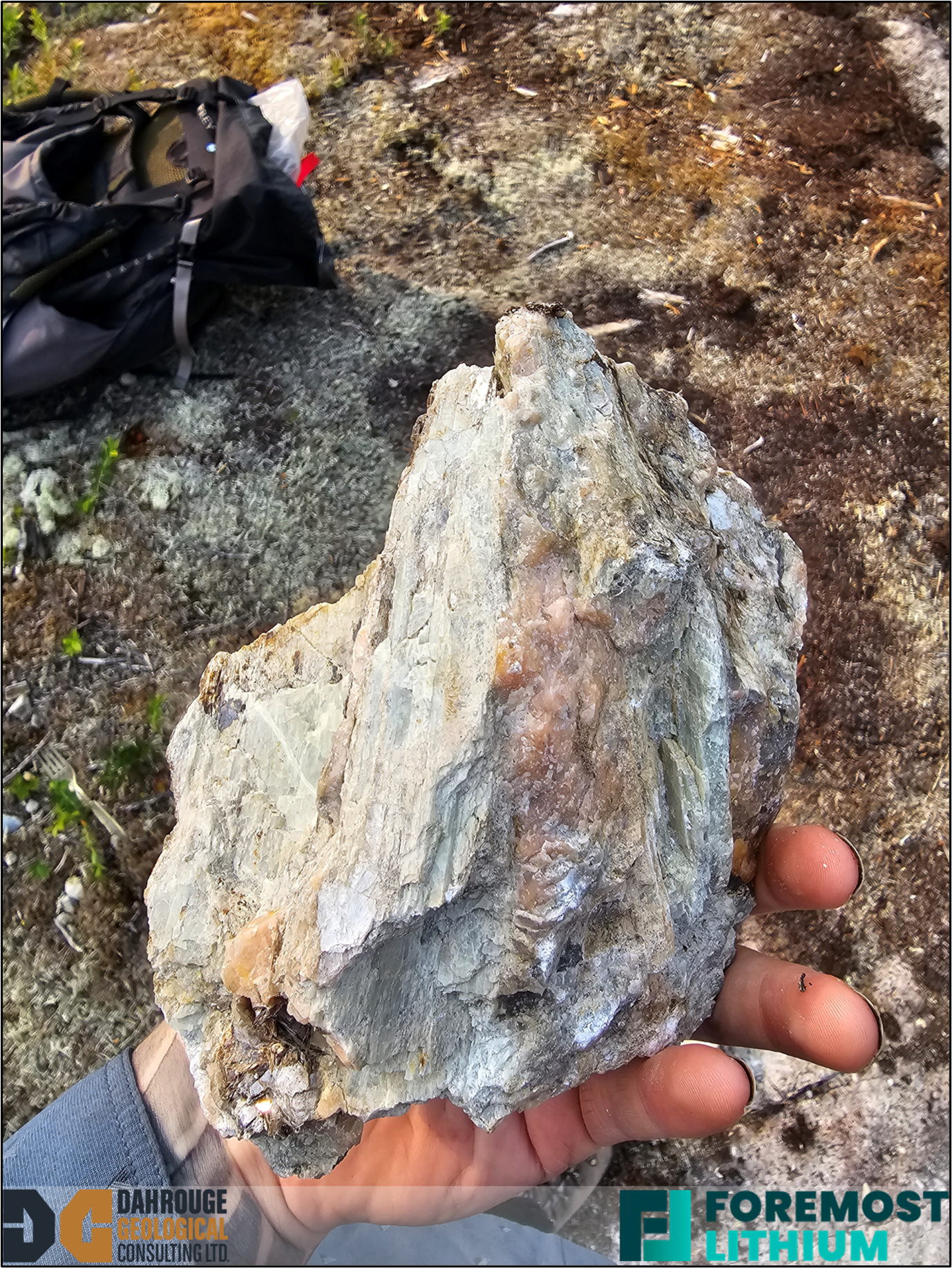 Photo 4 – Large spodumene crystals found in outcrop at the B1 pegmatite; Sample 153026
Next Steps – Winter Drill Program
Steps towards applying for a work permit and drill targeting are currently underway for a winter drill program in the coming months on both the Zoro and Jean Lake Properties. Drilling on Zoro will seek to expand the existing resource on Dyke 1, as well as further investigate the spodumene-bearing pegmatites on Dyke 8 and Dyke 16. The drill program at Jean Lake will follow up on the results from the winter 2023 drill program with the hopes of expanding the high-grade spodumene occurrences at B1 and B2.
Qualified Person
The technical information contained in this news release has been reviewed by Matthew Carter B.Sc., P.Geo., of Dahrouge Geological Consulting, who is a "Qualified Person" as defined in NI 43-101 and as defined by SEC's S-K 1300 rules for mineral deposit disclosure.
On Behalf of the Board of Directors
Jason Barnard, President and CEO
Email: This email address is being protected from spambots. You need JavaScript enabled to view it.
Phone: +1 (604) 330-8067
About Foremost Lithium
Foremost Lithium (NASDAQ: FMST) (CSE: FAT) (FSE: F0R0) (WKN: A3DCC8) is a hard-rock lithium exploration company focused on empowering the North American clean energy economy. Foremost's strategically located lithium properties extend over 43,000 acres in Snow Lake, Manitoba, and hosts a property in a known active lithium camp situated on over 11,400 acres in Quebec called Lac Simard South.
Foremost's four flagship Lithium Lane Projects; Zoro, Jean Lake, GRC, and Peg North as well as its Lac Simard South project are located at the tip of the NAFTA superhighway to capitalize on the world's growing EV appetite, strongly positioning the Company to become a premier supplier of North America's lithium feedstock. As the world transitions towards decarbonization, the Company's objective is the extraction of lithium oxide (Li₂O), and to subsequently play a role in the production of high-quality lithium hydroxide (LiOH), to help power lithium-based batteries, critical in developing a clean-energy economy. Foremost Lithium also has the Winston Gold/Silver Property in New Mexico USA. Learn More at www.foremostlithium.com.
Follow us or contact us on social media:
Twitter: @foremostlithium
LinkedIn: https://www.linkedin.com/company/foremost-lithium-resource-technology/
Facebook: https://www.facebook.com/ForemostLithium
Forward-Looking Statements
This news release contains "forward-looking statements" and "forward-looking information" (as defined under applicable securities laws), based on management's best estimates, assumptions, and current expectations. Such statements include but are not limited to, statements with respect to the plans for future exploration and development of the Company's properties and the acquisition of additional exploration projects. Generally, these forward-looking statements can be identified by the use of forward-looking terminology such as "expects", "expected", "budgeted", "forecasts", "anticipates" "plans", "anticipates", "believes", "intends", "estimates", "projects", "aims", "potential", "goal", "objective", "prospective", and similar expressions, or that events or conditions "will", "would", "may", "can", "could" or "should" occur. These statements should not be read as guarantees of future performance or results. Such statements involve known and unknown risks, uncertainties and other factors that may cause actual results, performance or achievements to be materially different from those expressed or implied by such statements, including but not limited to: risks related to the receipt of all necessary regulatory and third party approvals for the proposed operations of the Company's business and exploration activities, risks related to the Company's exploration properties; risks related to international operations; risks related to general economic conditions, actual results of current exploration activities, unanticipated reclamation expenses; changes in project parameters as plans continue to be refined; fluctuations in prices of commodities including lithium and gold; fluctuations in foreign currency exchange rates, increases in market prices of mining consumables, possible variations in reserves; failure of plant, equipment or processes to operate as anticipated; accidents, labour disputes, title disputes, claims and limitations on insurance coverage and other risks of the mining industry; delays in the completion of exploration, development or construction activities, changes in national and local government regulation of mining operations, tax rules and regulations, and political and economic developments in jurisdictions in which the Company operates. . Although the Company has attempted to identify important factors that could cause actual results to differ materially from those contained in forward-looking statements, there may be other factors that cause results not to be as anticipated, estimated or intended. There can be no assurance that such statements will prove to be accurate, as actual results and future events could differ materially from those anticipated in such statements. The forward-looking statements and forward-looking information are made as of the date hereof and are qualified in their entirety by this cautionary statement. The Company disclaims any obligation to revise or update any such factors or to publicly announce the result of any revisions to any forward-looking statements or forward-looking information contained herein to reflect future results, events, or developments, except as require by law. Accordingly, readers should not place undue reliance on forward-looking statements and information. Please refer to the Company's most recent filings under its profile at www.sedar.com for further information respecting the risks affecting the Company and its business.
The Canadian Securities Exchange has neither approved nor disapproved the contents of this news release and accepts no responsibility for the adequacy or accuracy hereof.
Company
Jason Barnard, President and CEO
+1 (604) 330-8067
This email address is being protected from spambots. You need JavaScript enabled to view it.
Investor Relations
Michael Kim or Brooks Hamilton
MZ North America
+1 (737) 289-0835
This email address is being protected from spambots. You need JavaScript enabled to view it.



| | | | | | |
| --- | --- | --- | --- | --- | --- |
| Appendix I – Sample Results Sample ID | Easting | Northing | Li (ppm) | Cs (ppm) | Ta (ppm) |
| 153026 | 452686 | 6076406 | 8434 | 22.7 | 1.1 |
| 153027 | 452688 | 6076418 | 64 | 1.2 | 0.25 |
| 153028 | 452657 | 6076470 | 14 | 2 | 2.9 |
| 153029 | 452827 | 6076320 | 8635 | 25.9 | 8.4 |
| 153288 | 458571 | 6078894 | 5 | 56 | 49.9 |
| 153289 | 458568 | 6078904 | 11 | 36.3 | 62.9 |
| 153291 | 458527 | 6078936 | 9883 | 152 | 36.3 |
| 153292 | 458535 | 6078935 | 2627 | 168 | 36.2 |
| 153293 | 458525 | 6078949 | 2979 | 139 | 49.4 |
| 153294 | 458502 | 6079056 | 479 | 394 | 87.2 |
| 153295 | 458495 | 6079046 | 5062 | 343 | 30.6 |
| 153296 | 458497 | 6079023 | 6734 | 238 | 76.7 |
| 153277 | 471636 | 6087768 | 36 | 12.4 | 39.8 |
| 153278 | 471631 | 6087751 | 35 | 10.1 | 23.3 |
| 153279 | 471616 | 6087740 | 25 | 11.8 | 35.4 |
| 153280 | 471567 | 9087169 | 35 | 15 | 72.8 |
| 153281 | 471493 | 6086820 | 25 | 7.6 | 2.9 |
| 153282 | 472496 | 6081260 | 27 | 1.5 | 0.25 |
| 153283 | 472491 | 6081264 | 13 | 4.2 | 0.25 |
| 153284 | 472315 | 6082485 | 26 | 19.8 | 0.6 |
| 153285 | 475656 | 6084561 | 23 | 1.1 | 0.25 |
| 153286 | 476536 | 6084594 | 16 | 1 | 0.25 |
| 153287 | 476588 | 6084569 | 17 | 1.6 | 0.25 |
| 153001 | 465525 | 6088798 | 48 | 2.3 | 0.6 |
| 153002 | 465654 | 6088773 | 44 | 15.5 | 7.6 |
| 153003 | 458683 | 6061725 | 410 | 40.8 | 0.6 |
| 153004 | 458683 | 6061725 | 57 | 5.3 | 2.6 |
| 153005 | 466525 | 6089258 | 121 | 5.7 | 0.25 |
| 153006 | 466829 | 6089572 | 40 | 0.8 | 0.25 |
| 153007 | 466403 | 6090059 | 74 | 13.1 | 5.4 |
| 153008 | 466484 | 6090068 | 98 | 0.4 | 0.25 |
| 153009 | 464309 | 6087074 | 48 | 14.2 | 1.3 |
| 153010 | 464304 | 6087070 | 55 | 15 | 0.6 |
| 153011 | 646310 | 6087068 | 80 | 28.8 | 1.9 |
| 153201 | 465908 | 6089973 | 41 | 3.2 | 0.9 |
| 153202 | 465895 | 6090518 | 24 | 1.8 | 0.25 |
| 153203 | 466004 | 6090730 | 68 | 1.3 | 1.1 |
| 153204 | 465988 | 6090927 | 36 | 6.8 | 0.25 |
| 153205 | 465985 | 6090927 | 58 | 3.4 | 0.25 |
| 153206 | 466070 | 6090815 | 57 | 3.1 | 0.6 |
| 153207 | 466223 | 6090617 | 139 | 5 | 1.4 |
| 153208 | 464184 | 6087760 | 61 | 3.1 | 0.25 |
| 153209 | 464200 | 6087765 | 102 | 10.4 | 0.9 |
| 153210 | 464214 | 6087759 | 82 | 2.9 | 0.25 |
| 153211 | 464221 | 6087752 | 93 | 4.7 | 1 |
| 153212 | 464220 | 6087740 | 117 | 0.8 | 0.25 |
| 153213 | 464253 | 6087861 | 149 | 18.2 | 3.9 |
| 153214 | 464209 | 6087925 | 79 | 6.1 | 2.9 |
| 153215 | 467965 | 6088927 | 99 | 3.2 | 0.5 |
| 153251 | 465064 | 6089353 | 17 | 0.05 | 0.25 |
| 153252 | 465220 | 6089935 | 82 | 3.2 | 0.25 |
| 153253 | 465204 | 6090028 | 24 | 2.2 | 1.2 |
| 153254 | 465165 | 6090227 | 21 | 15.8 | 4.8 |
| 153255 | 463953 | 6087389 | 61 | 1.1 | 0.25 |
| 153256 | 463722 | 6087178 | 57 | 3.6 | 1.2 |
| 153257 | 464160 | 6088129 | 65 | 4.3 | 0.9 |
| 153258 | 464123 | 6088061 | 51 | 6.5 | 0.7 |
| 153259 | 464186 | 6088007 | 94 | 4.1 | 0.7 |
| 153260 | 463651 | 6087816 | 54 | 13.9 | 2.1 |
| 153261 | 463708 | 6087726 | 37 | 6.5 | 0.9 |
| 153262 | 463601 | 6087879 | 42 | 4.1 | 1 |
| 153263 | 464220 | 6091437 | 51 | 2.1 | 0.25 |
| 153264 | 464226 | 6091441 | 58 | 1.5 | 0.25 |
| 153265 | 464282 | 6091429 | 54 | 2.4 | 0.25 |
| 153266 | 464304 | 6091510 | 64 | 1.5 | 0.25 |
| 153267 | 464114 | 6091186 | 16 | 0.1 | 0.25 |
| 153268 | 464111 | 6091189 | 18 | 0.2 | 0.25 |
| 153269 | 466647 | 6089091 | 43 | 43 | 11.2 |
| 153271 | 467009 | 6088844 | 5 | 0.05 | 0.25 |
| 153272 | 466675 | 6089738 | 62 | 0.8 | 0.25 |
| 153273 | 466646 | 6089833 | 15 | 37.1 | 7.7 |
| 153274 | 467140 | 6089650 | 11 | 2 | 0.25 |
| 153275 | 466714 | 6089336 | 49 | 12.6 | 6.5 |
| 153276 | 467176 | 6088904 | 97 | 4 | 0.25 |

Images accompanying this announcement are available at: 

https://www.globenewswire.com/NewsRoom/AttachmentNg/90466000-384d-49c6-b280-3299525c6c84
https://www.globenewswire.com/NewsRoom/AttachmentNg/b0114c4e-810d-4afc-897e-d03a5750b22b
https://www.globenewswire.com/NewsRoom/AttachmentNg/3b72d00c-8927-4f80-bedf-60ba4516faf2
https://www.globenewswire.com/NewsRoom/AttachmentNg/deacccd6-3b70-4802-bddc-6568230ca89d
https://www.globenewswire.com/NewsRoom/AttachmentNg/37638332-4844-4aaf-8a7a-ee93312d83e0
https://www.globenewswire.com/NewsRoom/AttachmentNg/4767bad9-3b79-4e6b-94dc-c805b042a983
https://www.globenewswire.com/NewsRoom/AttachmentNg/805be3b7-0663-44bf-bff0-280c350f5f1b